On March 20, we celebrate TV personality and Rollins College Alum Mr. Fred Rogers who would have been 86 years old.  He passed away in 2003.  Fred Rogers dedicated his life to serving children. His relentless commitment to all that is best in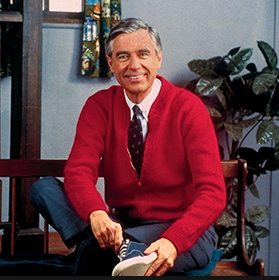 people led to an astonishing array of honors, from induction into the Television Hall of Fame to The Presidential Medal of Freedom.  
Public Relations executive Larry Humes, was a friend of Fred's and shared his insights with me in an interview for the book, Listening Leaders: The Ten Golden Rules to Listen, Lead & Succeed:
"A person who impressed me with his listening skills was Fred Rogers, the star for more than 30 years of the extraordinary television show, Mr. Rogers' Neighborhood.  When you were in his presence, he was totally focused on you.  It is uncanny how much he focused on what you were saying and how he gave you feedback. 
He would come back to you a year later and tell you things from that previous conversation.  Fred Rogers was more than a great listener to children.  He was really a great listener to all people."
The World According to Mister Rogers, was published in 2003 and highlighted some of Fred's profound thoughts including,
"

The purpose of life is to listen—to yourself, to your neighbor, to your world, and to God and, when the time comes, to respond in as helpful a way as you can find…from within and without." 
"More and more I've come to understand that listening is one of the most important things we can do for one another. Whether the other be an adult or a child, our engagement in listening to who that person is can often be our greatest gift." 
Yes, Mr. Rogers, It's a wonderful day in the neighborhood …….when we deeply listen to ourselves, our loved ones, our neighbors, our world, and to God.
BETTER LISTENING = BETTER LEADERSHIP